Strict Standards
: Non-static method JLoader::import() should not be called statically in
/home2/sirdik/public_html/fbmi.sirdik.org/libraries/loader.php
on line
186
Strict Standards
: Non-static method JLoader::register() should not be called statically in
/home2/sirdik/public_html/fbmi.sirdik.org/libraries/loader.php
on line
71
Strict Standards
: Non-static method JLoader::load() should not be called statically in
/home2/sirdik/public_html/fbmi.sirdik.org/libraries/loader.php
on line
161
Strict Standards
: Non-static method JLoader::register() should not be called statically in
/home2/sirdik/public_html/fbmi.sirdik.org/libraries/loader.php
on line
138
Strict Standards
: Declaration of ContentController::display() should be compatible with JController::display($cachable = false) in
/home2/sirdik/public_html/fbmi.sirdik.org/components/com_content/controller.php
on line
28
Strict Standards
: Non-static method JLoader::import() should not be called statically in
/home2/sirdik/public_html/fbmi.sirdik.org/libraries/loader.php
on line
186
Strict Standards
: Non-static method JLoader::import() should not be called statically in
/home2/sirdik/public_html/fbmi.sirdik.org/libraries/loader.php
on line
186
Strict Standards
: Non-static method JLoader::import() should not be called statically in
/home2/sirdik/public_html/fbmi.sirdik.org/libraries/loader.php
on line
186
Strict Standards
: Non-static method JLoader::register() should not be called statically in
/home2/sirdik/public_html/fbmi.sirdik.org/libraries/loader.php
on line
71
Strict Standards
: Non-static method JLoader::load() should not be called statically in
/home2/sirdik/public_html/fbmi.sirdik.org/libraries/loader.php
on line
161
Strict Standards
: Non-static method JLoader::register() should not be called statically in
/home2/sirdik/public_html/fbmi.sirdik.org/libraries/loader.php
on line
138
Deprecated
: Non-static method JModel::addIncludePath() should not be called statically, assuming $this from incompatible context in
/home2/sirdik/public_html/fbmi.sirdik.org/libraries/joomla/application/component/controller.php
on line
382
Strict Standards
: Non-static method JLoader::import() should not be called statically in
/home2/sirdik/public_html/fbmi.sirdik.org/libraries/loader.php
on line
186
Deprecated
: Non-static method JPath::clean() should not be called statically, assuming $this from incompatible context in
/home2/sirdik/public_html/fbmi.sirdik.org/libraries/joomla/application/component/model.php
on line
253
Deprecated
: Non-static method JRequest::getVar() should not be called statically, assuming $this from incompatible context in
/home2/sirdik/public_html/fbmi.sirdik.org/components/com_content/content.php
on line
35
Deprecated
: Non-static method JHTML::_() should not be called statically, assuming $this from incompatible context in
/home2/sirdik/public_html/fbmi.sirdik.org/components/com_content/controller.php
on line
37
Strict Standards
: Non-static method JLoader::load() should not be called statically in
/home2/sirdik/public_html/fbmi.sirdik.org/libraries/loader.php
on line
161
Strict Standards
: Non-static method JLoader::register() should not be called statically in
/home2/sirdik/public_html/fbmi.sirdik.org/libraries/loader.php
on line
138
Strict Standards
: Non-static method JLoader::import() should not be called statically in
/home2/sirdik/public_html/fbmi.sirdik.org/libraries/loader.php
on line
186
Deprecated
: Non-static method JPath::find() should not be called statically, assuming $this from incompatible context in
/home2/sirdik/public_html/fbmi.sirdik.org/libraries/joomla/html/html.php
on line
66
Deprecated
: Non-static method JHTML::addIncludePath() should not be called statically, assuming $this from incompatible context in
/home2/sirdik/public_html/fbmi.sirdik.org/libraries/joomla/html/html.php
on line
66
Strict Standards
: call_user_func_array() expects parameter 1 to be a valid callback, non-static method JHTMLBehavior::caption() should not be called statically in
/home2/sirdik/public_html/fbmi.sirdik.org/libraries/joomla/html/html.php
on line
91
Strict Standards
: Non-static method JHTML::script() should not be called statically in
/home2/sirdik/public_html/fbmi.sirdik.org/plugins/system/mtupgrade/behavior.php
on line
86
Strict Standards
: Non-static method JHTML::_() should not be called statically in
/home2/sirdik/public_html/fbmi.sirdik.org/libraries/joomla/html/html.php
on line
172
Strict Standards
: call_user_func_array() expects parameter 1 to be a valid callback, non-static method JHTMLBehavior::mootools() should not be called statically in
/home2/sirdik/public_html/fbmi.sirdik.org/libraries/joomla/html/html.php
on line
91
Strict Standards
: Non-static method JFactory::getConfig() should not be called statically in
/home2/sirdik/public_html/fbmi.sirdik.org/plugins/system/mtupgrade/behavior.php
on line
52
Strict Standards
: Non-static method JHTML::script() should not be called statically in
/home2/sirdik/public_html/fbmi.sirdik.org/plugins/system/mtupgrade/behavior.php
on line
66
Strict Standards
: Non-static method JURI::root() should not be called statically in
/home2/sirdik/public_html/fbmi.sirdik.org/libraries/joomla/html/html.php
on line
176
Strict Standards
: Non-static method JURI::base() should not be called statically in
/home2/sirdik/public_html/fbmi.sirdik.org/libraries/joomla/environment/uri.php
on line
272
Strict Standards
: Non-static method JURI::getInstance() should not be called statically in
/home2/sirdik/public_html/fbmi.sirdik.org/libraries/joomla/environment/uri.php
on line
272
Strict Standards
: Non-static method JFactory::getDocument() should not be called statically in
/home2/sirdik/public_html/fbmi.sirdik.org/libraries/joomla/html/html.php
on line
179
Strict Standards
: Non-static method JFactory::getApplication() should not be called statically in
/home2/sirdik/public_html/fbmi.sirdik.org/plugins/system/mtupgrade/behavior.php
on line
70
Strict Standards
: Non-static method JURI::root() should not be called statically in
/home2/sirdik/public_html/fbmi.sirdik.org/libraries/joomla/html/html.php
on line
176
Strict Standards
: Non-static method JFactory::getDocument() should not be called statically in
/home2/sirdik/public_html/fbmi.sirdik.org/libraries/joomla/html/html.php
on line
179
Deprecated
: Non-static method JRequest::getCmd() should not be called statically, assuming $this from incompatible context in
/home2/sirdik/public_html/fbmi.sirdik.org/components/com_content/controller.php
on line
40
Deprecated
: Non-static method JRequest::getVar() should not be called statically, assuming $this from incompatible context in
/home2/sirdik/public_html/fbmi.sirdik.org/libraries/joomla/environment/request.php
on line
255
Deprecated
: Non-static method JRequest::_cleanVar() should not be called statically, assuming $this from incompatible context in
/home2/sirdik/public_html/fbmi.sirdik.org/libraries/joomla/environment/request.php
on line
134
Deprecated
: Non-static method JFilterInput::getInstance() should not be called statically, assuming $this from incompatible context in
/home2/sirdik/public_html/fbmi.sirdik.org/libraries/joomla/environment/request.php
on line
577
Deprecated
: Non-static method JFactory::getUser() should not be called statically, assuming $this from incompatible context in
/home2/sirdik/public_html/fbmi.sirdik.org/components/com_content/controller.php
on line
46
Strict Standards
: Non-static method JLoader::import() should not be called statically in
/home2/sirdik/public_html/fbmi.sirdik.org/libraries/loader.php
on line
186
Deprecated
: Non-static method JFactory::getSession() should not be called statically, assuming $this from incompatible context in
/home2/sirdik/public_html/fbmi.sirdik.org/libraries/joomla/factory.php
on line
163
Deprecated
: Non-static method JRequest::getVar() should not be called statically, assuming $this from incompatible context in
/home2/sirdik/public_html/fbmi.sirdik.org/components/com_content/controller.php
on line
47
Deprecated
: Non-static method JRequest::_cleanVar() should not be called statically, assuming $this from incompatible context in
/home2/sirdik/public_html/fbmi.sirdik.org/libraries/joomla/environment/request.php
on line
134
Deprecated
: Non-static method JFilterInput::getInstance() should not be called statically, assuming $this from incompatible context in
/home2/sirdik/public_html/fbmi.sirdik.org/libraries/joomla/environment/request.php
on line
577
Deprecated
: preg_replace(): The /e modifier is deprecated, use preg_replace_callback instead in
/home2/sirdik/public_html/fbmi.sirdik.org/libraries/joomla/filter/filterinput.php
on line
512
Deprecated
: preg_replace(): The /e modifier is deprecated, use preg_replace_callback instead in
/home2/sirdik/public_html/fbmi.sirdik.org/libraries/joomla/filter/filterinput.php
on line
514
Deprecated
: Non-static method JRequest::getVar() should not be called statically, assuming $this from incompatible context in
/home2/sirdik/public_html/fbmi.sirdik.org/components/com_content/controller.php
on line
48
Deprecated
: Non-static method JRequest::_cleanVar() should not be called statically, assuming $this from incompatible context in
/home2/sirdik/public_html/fbmi.sirdik.org/libraries/joomla/environment/request.php
on line
151
Deprecated
: Non-static method JFilterInput::getInstance() should not be called statically, assuming $this from incompatible context in
/home2/sirdik/public_html/fbmi.sirdik.org/libraries/joomla/environment/request.php
on line
577
Deprecated
: Non-static method JFactory::getDocument() should not be called statically, assuming $this from incompatible context in
/home2/sirdik/public_html/fbmi.sirdik.org/libraries/joomla/application/component/controller.php
on line
287
Deprecated
: Non-static method JRequest::getCmd() should not be called statically, assuming $this from incompatible context in
/home2/sirdik/public_html/fbmi.sirdik.org/libraries/joomla/application/component/controller.php
on line
290
Deprecated
: Non-static method JRequest::getVar() should not be called statically, assuming $this from incompatible context in
/home2/sirdik/public_html/fbmi.sirdik.org/libraries/joomla/environment/request.php
on line
255
Deprecated
: Non-static method JRequest::_cleanVar() should not be called statically, assuming $this from incompatible context in
/home2/sirdik/public_html/fbmi.sirdik.org/libraries/joomla/environment/request.php
on line
134
Deprecated
: Non-static method JFilterInput::getInstance() should not be called statically, assuming $this from incompatible context in
/home2/sirdik/public_html/fbmi.sirdik.org/libraries/joomla/environment/request.php
on line
577
Deprecated
: Non-static method JRequest::getCmd() should not be called statically, assuming $this from incompatible context in
/home2/sirdik/public_html/fbmi.sirdik.org/libraries/joomla/application/component/controller.php
on line
291
Deprecated
: Non-static method JRequest::getVar() should not be called statically, assuming $this from incompatible context in
/home2/sirdik/public_html/fbmi.sirdik.org/libraries/joomla/environment/request.php
on line
255
Deprecated
: Non-static method JRequest::_cleanVar() should not be called statically, assuming $this from incompatible context in
/home2/sirdik/public_html/fbmi.sirdik.org/libraries/joomla/environment/request.php
on line
151
Deprecated
: Non-static method JFilterInput::getInstance() should not be called statically, assuming $this from incompatible context in
/home2/sirdik/public_html/fbmi.sirdik.org/libraries/joomla/environment/request.php
on line
577
Strict Standards
: Non-static method JLoader::load() should not be called statically in
/home2/sirdik/public_html/fbmi.sirdik.org/libraries/loader.php
on line
161
Strict Standards
: Non-static method JLoader::register() should not be called statically in
/home2/sirdik/public_html/fbmi.sirdik.org/libraries/loader.php
on line
138
Strict Standards
: Non-static method JLoader::import() should not be called statically in
/home2/sirdik/public_html/fbmi.sirdik.org/libraries/loader.php
on line
186
Deprecated
: Non-static method JPath::find() should not be called statically, assuming $this from incompatible context in
/home2/sirdik/public_html/fbmi.sirdik.org/libraries/joomla/application/component/controller.php
on line
627
Strict Standards
: Non-static method JLoader::import() should not be called statically in
/home2/sirdik/public_html/fbmi.sirdik.org/libraries/loader.php
on line
186
Strict Standards
: Non-static method JLoader::register() should not be called statically in
/home2/sirdik/public_html/fbmi.sirdik.org/libraries/loader.php
on line
71
Strict Standards
: Non-static method JLoader::load() should not be called statically in
/home2/sirdik/public_html/fbmi.sirdik.org/libraries/loader.php
on line
161
Strict Standards
: Non-static method JLoader::register() should not be called statically in
/home2/sirdik/public_html/fbmi.sirdik.org/libraries/loader.php
on line
138
Strict Standards
: Non-static method JLoader::import() should not be called statically in
/home2/sirdik/public_html/fbmi.sirdik.org/libraries/loader.php
on line
186
Deprecated
: Non-static method JMenu::getInstance() should not be called statically, assuming $this from incompatible context in
/home2/sirdik/public_html/fbmi.sirdik.org/libraries/joomla/application/application.php
on line
705
Deprecated
: Non-static method JError::isError() should not be called statically, assuming $this from incompatible context in
/home2/sirdik/public_html/fbmi.sirdik.org/libraries/joomla/application/application.php
on line
706
Deprecated
: Non-static method JFactory::getDBO() should not be called statically, assuming $this from incompatible context in
/home2/sirdik/public_html/fbmi.sirdik.org/includes/application.php
on line
300
Deprecated
: Non-static method JRequest::getCmd() should not be called statically, assuming $this from incompatible context in
/home2/sirdik/public_html/fbmi.sirdik.org/includes/application.php
on line
310
Deprecated
: Non-static method JRequest::getVar() should not be called statically, assuming $this from incompatible context in
/home2/sirdik/public_html/fbmi.sirdik.org/libraries/joomla/environment/request.php
on line
255
Deprecated
: Non-static method JRequest::_cleanVar() should not be called statically, assuming $this from incompatible context in
/home2/sirdik/public_html/fbmi.sirdik.org/libraries/joomla/environment/request.php
on line
151
Deprecated
: Non-static method JFilterInput::getInstance() should not be called statically, assuming $this from incompatible context in
/home2/sirdik/public_html/fbmi.sirdik.org/libraries/joomla/environment/request.php
on line
577
Deprecated
: Non-static method JFilterInput::clean() should not be called statically, assuming $this from incompatible context in
/home2/sirdik/public_html/fbmi.sirdik.org/includes/application.php
on line
311
Deprecated
: Non-static method JURI::base() should not be called statically, assuming $this from incompatible context in
/home2/sirdik/public_html/fbmi.sirdik.org/libraries/joomla/application/component/view.php
on line
178
Deprecated
: Non-static method JHTML::addIncludePath() should not be called statically, assuming $this from incompatible context in
/home2/sirdik/public_html/fbmi.sirdik.org/components/com_content/view.php
on line
13
Deprecated
: Non-static method JPath::clean() should not be called statically, assuming $this from incompatible context in
/home2/sirdik/public_html/fbmi.sirdik.org/libraries/joomla/html/html.php
on line
326
Deprecated
: Non-static method JModel::getInstance() should not be called statically, assuming $this from incompatible context in
/home2/sirdik/public_html/fbmi.sirdik.org/libraries/joomla/application/component/controller.php
on line
592
Strict Standards
: Non-static method JLoader::load() should not be called statically in
/home2/sirdik/public_html/fbmi.sirdik.org/libraries/loader.php
on line
161
Strict Standards
: Non-static method JLoader::register() should not be called statically in
/home2/sirdik/public_html/fbmi.sirdik.org/libraries/loader.php
on line
138
Strict Standards
: Non-static method JLoader::import() should not be called statically in
/home2/sirdik/public_html/fbmi.sirdik.org/libraries/loader.php
on line
186
Deprecated
: Non-static method JPath::find() should not be called statically, assuming $this from incompatible context in
/home2/sirdik/public_html/fbmi.sirdik.org/libraries/joomla/application/component/model.php
on line
112
Deprecated
: Non-static method JModel::addIncludePath() should not be called statically, assuming $this from incompatible context in
/home2/sirdik/public_html/fbmi.sirdik.org/libraries/joomla/application/component/model.php
on line
113
Deprecated
: Non-static method JModel::_createFileName() should not be called statically, assuming $this from incompatible context in
/home2/sirdik/public_html/fbmi.sirdik.org/libraries/joomla/application/component/model.php
on line
114
Strict Standards
: Non-static method JLoader::import() should not be called statically in
/home2/sirdik/public_html/fbmi.sirdik.org/libraries/loader.php
on line
186
Deprecated
: Non-static method JFactory::getDBO() should not be called statically, assuming $this from incompatible context in
/home2/sirdik/public_html/fbmi.sirdik.org/libraries/joomla/application/component/model.php
on line
83
Strict Standards
: Non-static method JLoader::import() should not be called statically in
/home2/sirdik/public_html/fbmi.sirdik.org/libraries/loader.php
on line
186
Deprecated
: Non-static method JTable::addIncludePath() should not be called statically, assuming $this from incompatible context in
/home2/sirdik/public_html/fbmi.sirdik.org/libraries/joomla/application/component/model.php
on line
268
Deprecated
: Non-static method JRequest::getVar() should not be called statically, assuming $this from incompatible context in
/home2/sirdik/public_html/fbmi.sirdik.org/components/com_content/models/article.php
on line
45
Deprecated
: Non-static method JRequest::_cleanVar() should not be called statically, assuming $this from incompatible context in
/home2/sirdik/public_html/fbmi.sirdik.org/libraries/joomla/environment/request.php
on line
134
Deprecated
: Non-static method JFilterInput::getInstance() should not be called statically, assuming $this from incompatible context in
/home2/sirdik/public_html/fbmi.sirdik.org/libraries/joomla/environment/request.php
on line
577
Deprecated
: Non-static method JFactory::getApplication() should not be called statically, assuming $this from incompatible context in
/home2/sirdik/public_html/fbmi.sirdik.org/libraries/joomla/application/component/controller.php
on line
356
Strict Standards
: Non-static method JLoader::import() should not be called statically in
/home2/sirdik/public_html/fbmi.sirdik.org/libraries/loader.php
on line
186
Deprecated
: Non-static method JMenu::getInstance() should not be called statically, assuming $this from incompatible context in
/home2/sirdik/public_html/fbmi.sirdik.org/libraries/joomla/application/application.php
on line
705
Deprecated
: Non-static method JError::isError() should not be called statically, assuming $this from incompatible context in
/home2/sirdik/public_html/fbmi.sirdik.org/libraries/joomla/application/application.php
on line
706
Deprecated
: Non-static method JRegistryFormat::getInstance() should not be called statically, assuming $this from incompatible context in
/home2/sirdik/public_html/fbmi.sirdik.org/libraries/joomla/registry/registry.php
on line
373
Deprecated
: Non-static method JFilterInput::clean() should not be called statically, assuming $this from incompatible context in
/home2/sirdik/public_html/fbmi.sirdik.org/libraries/joomla/registry/format.php
on line
45
Deprecated
: Non-static method JFactory::getCache() should not be called statically, assuming $this from incompatible context in
/home2/sirdik/public_html/fbmi.sirdik.org/libraries/joomla/application/component/controller.php
on line
307
Deprecated
: Non-static method JFactory::getConfig() should not be called statically, assuming $this from incompatible context in
/home2/sirdik/public_html/fbmi.sirdik.org/libraries/joomla/factory.php
on line
192
Strict Standards
: Non-static method JLoader::import() should not be called statically in
/home2/sirdik/public_html/fbmi.sirdik.org/libraries/loader.php
on line
186
Deprecated
: Non-static method JCache::getInstance() should not be called statically, assuming $this from incompatible context in
/home2/sirdik/public_html/fbmi.sirdik.org/libraries/joomla/factory.php
on line
208
Strict Standards
: Non-static method JLoader::load() should not be called statically in
/home2/sirdik/public_html/fbmi.sirdik.org/libraries/loader.php
on line
161
Strict Standards
: Non-static method JLoader::register() should not be called statically in
/home2/sirdik/public_html/fbmi.sirdik.org/libraries/loader.php
on line
138
Strict Standards
: Declaration of JCacheView::get() should be compatible with JCache::get($id, $group = NULL) in
/home2/sirdik/public_html/fbmi.sirdik.org/libraries/joomla/cache/handler/view.php
on line
150
Deprecated
: Non-static method JRequest::getCmd() should not be called statically, assuming $this from incompatible context in
/home2/sirdik/public_html/fbmi.sirdik.org/libraries/joomla/cache/cache.php
on line
87
Deprecated
: Non-static method JRequest::getVar() should not be called statically, assuming $this from incompatible context in
/home2/sirdik/public_html/fbmi.sirdik.org/libraries/joomla/environment/request.php
on line
255
Deprecated
: Non-static method JRequest::_cleanVar() should not be called statically, assuming $this from incompatible context in
/home2/sirdik/public_html/fbmi.sirdik.org/libraries/joomla/environment/request.php
on line
151
Deprecated
: Non-static method JFilterInput::getInstance() should not be called statically, assuming $this from incompatible context in
/home2/sirdik/public_html/fbmi.sirdik.org/libraries/joomla/environment/request.php
on line
577
Deprecated
: Non-static method JRequest::getURI() should not be called statically, assuming $this from incompatible context in
/home2/sirdik/public_html/fbmi.sirdik.org/libraries/joomla/cache/handler/view.php
on line
148
Deprecated
: Non-static method JFactory::getURI() should not be called statically, assuming $this from incompatible context in
/home2/sirdik/public_html/fbmi.sirdik.org/libraries/joomla/environment/request.php
on line
51
Strict Standards
: Non-static method JLoader::import() should not be called statically in
/home2/sirdik/public_html/fbmi.sirdik.org/libraries/loader.php
on line
186
Deprecated
: Non-static method JURI::getInstance() should not be called statically, assuming $this from incompatible context in
/home2/sirdik/public_html/fbmi.sirdik.org/libraries/joomla/factory.php
on line
403
Deprecated
: Non-static method JCacheStorage::getInstance() should not be called statically, assuming $this from incompatible context in
/home2/sirdik/public_html/fbmi.sirdik.org/libraries/joomla/cache/cache.php
on line
313
Deprecated
: Non-static method JFactory::getConfig() should not be called statically, assuming $this from incompatible context in
/home2/sirdik/public_html/fbmi.sirdik.org/libraries/joomla/cache/storage/file.php
on line
37
Deprecated
: Non-static method JError::isError() should not be called statically, assuming $this from incompatible context in
/home2/sirdik/public_html/fbmi.sirdik.org/libraries/joomla/cache/cache.php
on line
206
Deprecated
: Non-static method JFactory::getDocument() should not be called statically, assuming $this from incompatible context in
/home2/sirdik/public_html/fbmi.sirdik.org/libraries/joomla/cache/handler/view.php
on line
85
Deprecated
: Non-static method JFactory::getUser() should not be called statically, assuming $this from incompatible context in
/home2/sirdik/public_html/fbmi.sirdik.org/components/com_content/views/article/view.html.php
on line
33
Strict Standards
: Non-static method JLoader::import() should not be called statically in
/home2/sirdik/public_html/fbmi.sirdik.org/libraries/loader.php
on line
186
Deprecated
: Non-static method JFactory::getSession() should not be called statically, assuming $this from incompatible context in
/home2/sirdik/public_html/fbmi.sirdik.org/libraries/joomla/factory.php
on line
163
Deprecated
: Non-static method JFactory::getDocument() should not be called statically, assuming $this from incompatible context in
/home2/sirdik/public_html/fbmi.sirdik.org/components/com_content/views/article/view.html.php
on line
34
Deprecated
: Non-static method JDispatcher::getInstance() should not be called statically, assuming $this from incompatible context in
/home2/sirdik/public_html/fbmi.sirdik.org/components/com_content/views/article/view.html.php
on line
35
Strict Standards
: Non-static method JLoader::import() should not be called statically in
/home2/sirdik/public_html/fbmi.sirdik.org/libraries/loader.php
on line
186
Strict Standards
: Non-static method JLoader::register() should not be called statically in
/home2/sirdik/public_html/fbmi.sirdik.org/libraries/loader.php
on line
71
Strict Standards
: Non-static method JLoader::load() should not be called statically in
/home2/sirdik/public_html/fbmi.sirdik.org/libraries/loader.php
on line
161
Strict Standards
: Non-static method JLoader::register() should not be called statically in
/home2/sirdik/public_html/fbmi.sirdik.org/libraries/loader.php
on line
138
Deprecated
: Non-static method JPathway::getInstance() should not be called statically, assuming $this from incompatible context in
/home2/sirdik/public_html/fbmi.sirdik.org/libraries/joomla/application/application.php
on line
682
Deprecated
: Non-static method JApplicationHelper::getClientInfo() should not be called statically, assuming $this from incompatible context in
/home2/sirdik/public_html/fbmi.sirdik.org/libraries/joomla/application/pathway.php
on line
75
Deprecated
: Non-static method JSite::getMenu() should not be called statically, assuming $this from incompatible context in
/home2/sirdik/public_html/fbmi.sirdik.org/includes/pathway.php
on line
34
Deprecated
: Non-static method JApplication::getMenu() should not be called statically, assuming $this from incompatible context in
/home2/sirdik/public_html/fbmi.sirdik.org/includes/application.php
on line
345
Strict Standards
: Non-static method JLoader::import() should not be called statically in
/home2/sirdik/public_html/fbmi.sirdik.org/libraries/loader.php
on line
186
Deprecated
: Non-static method JMenu::getInstance() should not be called statically, assuming $this from incompatible context in
/home2/sirdik/public_html/fbmi.sirdik.org/libraries/joomla/application/application.php
on line
705
Deprecated
: Non-static method JError::isError() should not be called statically, assuming $this from incompatible context in
/home2/sirdik/public_html/fbmi.sirdik.org/libraries/joomla/application/application.php
on line
706
Deprecated
: Non-static method JError::isError() should not be called statically, assuming $this from incompatible context in
/home2/sirdik/public_html/fbmi.sirdik.org/libraries/joomla/application/application.php
on line
683
Deprecated
: Non-static method JComponentHelper::getParams() should not be called statically, assuming $this from incompatible context in
/home2/sirdik/public_html/fbmi.sirdik.org/includes/application.php
on line
240
Strict Standards
: Non-static method JLoader::import() should not be called statically in
/home2/sirdik/public_html/fbmi.sirdik.org/libraries/loader.php
on line
186
Deprecated
: Non-static method JMenu::getInstance() should not be called statically, assuming $this from incompatible context in
/home2/sirdik/public_html/fbmi.sirdik.org/libraries/joomla/application/application.php
on line
705
Deprecated
: Non-static method JError::isError() should not be called statically, assuming $this from incompatible context in
/home2/sirdik/public_html/fbmi.sirdik.org/libraries/joomla/application/application.php
on line
706
Deprecated
: Non-static method JFactory::getConfig() should not be called statically, assuming $this from incompatible context in
/home2/sirdik/public_html/fbmi.sirdik.org/libraries/joomla/application/application.php
on line
382
Deprecated
: Non-static method JFactory::getConfig() should not be called statically, assuming $this from incompatible context in
/home2/sirdik/public_html/fbmi.sirdik.org/libraries/joomla/application/application.php
on line
382
Deprecated
: Non-static method JRegistryFormat::getInstance() should not be called statically, assuming $this from incompatible context in
/home2/sirdik/public_html/fbmi.sirdik.org/libraries/joomla/registry/registry.php
on line
373
Deprecated
: Non-static method JFilterInput::clean() should not be called statically, assuming $this from incompatible context in
/home2/sirdik/public_html/fbmi.sirdik.org/libraries/joomla/registry/format.php
on line
45
Deprecated
: Non-static method ContentHelperQuery::buildVotingQuery() should not be called statically, assuming $this from incompatible context in
/home2/sirdik/public_html/fbmi.sirdik.org/components/com_content/models/article.php
on line
526
Deprecated
: Non-static method JFactory::getUser() should not be called statically, assuming $this from incompatible context in
/home2/sirdik/public_html/fbmi.sirdik.org/components/com_content/models/article.php
on line
608
Strict Standards
: Non-static method JLoader::import() should not be called statically in
/home2/sirdik/public_html/fbmi.sirdik.org/libraries/loader.php
on line
186
Deprecated
: Non-static method JFactory::getSession() should not be called statically, assuming $this from incompatible context in
/home2/sirdik/public_html/fbmi.sirdik.org/libraries/joomla/factory.php
on line
163
Deprecated
: Non-static method JFactory::getDate() should not be called statically, assuming $this from incompatible context in
/home2/sirdik/public_html/fbmi.sirdik.org/components/com_content/models/article.php
on line
611
Strict Standards
: Non-static method JLoader::import() should not be called statically in
/home2/sirdik/public_html/fbmi.sirdik.org/libraries/loader.php
on line
186
Strict Standards
: Non-static method JLoader::register() should not be called statically in
/home2/sirdik/public_html/fbmi.sirdik.org/libraries/loader.php
on line
71
Deprecated
: Non-static method JFactory::getLanguage() should not be called statically, assuming $this from incompatible context in
/home2/sirdik/public_html/fbmi.sirdik.org/libraries/joomla/factory.php
on line
427
Strict Standards
: Non-static method JLoader::load() should not be called statically in
/home2/sirdik/public_html/fbmi.sirdik.org/libraries/loader.php
on line
161
Strict Standards
: Non-static method JLoader::register() should not be called statically in
/home2/sirdik/public_html/fbmi.sirdik.org/libraries/loader.php
on line
138
Deprecated
: Non-static method JFactory::getACL() should not be called statically, assuming $this from incompatible context in
/home2/sirdik/public_html/fbmi.sirdik.org/libraries/joomla/user/user.php
on line
260
Deprecated
: Non-static method JFactory::_createACL() should not be called statically, assuming $this from incompatible context in
/home2/sirdik/public_html/fbmi.sirdik.org/libraries/joomla/factory.php
on line
227
Strict Standards
: Non-static method JLoader::import() should not be called statically in
/home2/sirdik/public_html/fbmi.sirdik.org/libraries/loader.php
on line
186
Strict Standards
: Non-static method JLoader::register() should not be called statically in
/home2/sirdik/public_html/fbmi.sirdik.org/libraries/loader.php
on line
71
Deprecated
: Non-static method JFactory::getDBO() should not be called statically, assuming $this from incompatible context in
/home2/sirdik/public_html/fbmi.sirdik.org/libraries/joomla/factory.php
on line
527
Strict Standards
: Non-static method JLoader::load() should not be called statically in
/home2/sirdik/public_html/fbmi.sirdik.org/libraries/loader.php
on line
161
Strict Standards
: Non-static method JLoader::register() should not be called statically in
/home2/sirdik/public_html/fbmi.sirdik.org/libraries/loader.php
on line
138
Strict Standards
: Non-static method JLoader::import() should not be called statically in
/home2/sirdik/public_html/fbmi.sirdik.org/libraries/loader.php
on line
186
Strict Standards
: Non-static method JLoader::import() should not be called statically in
/home2/sirdik/public_html/fbmi.sirdik.org/libraries/loader.php
on line
186
Strict Standards
: Non-static method JLoader::load() should not be called statically in
/home2/sirdik/public_html/fbmi.sirdik.org/libraries/loader.php
on line
161
Strict Standards
: Non-static method JLoader::register() should not be called statically in
/home2/sirdik/public_html/fbmi.sirdik.org/libraries/loader.php
on line
138
Deprecated
: Non-static method JText::_() should not be called statically, assuming $this from incompatible context in
/home2/sirdik/public_html/fbmi.sirdik.org/components/com_content/models/article.php
on line
550
Deprecated
: Non-static method JFactory::getLanguage() should not be called statically, assuming $this from incompatible context in
/home2/sirdik/public_html/fbmi.sirdik.org/libraries/joomla/methods.php
on line
120
Deprecated
: Non-static method JFactory::getUser() should not be called statically, assuming $this from incompatible context in
/home2/sirdik/public_html/fbmi.sirdik.org/components/com_content/models/article.php
on line
110
Strict Standards
: Non-static method JLoader::import() should not be called statically in
/home2/sirdik/public_html/fbmi.sirdik.org/libraries/loader.php
on line
186
Deprecated
: Non-static method JFactory::getSession() should not be called statically, assuming $this from incompatible context in
/home2/sirdik/public_html/fbmi.sirdik.org/libraries/joomla/factory.php
on line
163
Deprecated
: Non-static method JRegistryFormat::getInstance() should not be called statically, assuming $this from incompatible context in
/home2/sirdik/public_html/fbmi.sirdik.org/libraries/joomla/registry/registry.php
on line
373
Deprecated
: Non-static method JFilterInput::clean() should not be called statically, assuming $this from incompatible context in
/home2/sirdik/public_html/fbmi.sirdik.org/libraries/joomla/registry/format.php
on line
45
Deprecated
: Non-static method JRequest::getVar() should not be called statically, assuming $this from incompatible context in
/home2/sirdik/public_html/fbmi.sirdik.org/components/com_content/models/article.php
on line
583
Deprecated
: Non-static method JRequest::_cleanVar() should not be called statically, assuming $this from incompatible context in
/home2/sirdik/public_html/fbmi.sirdik.org/libraries/joomla/environment/request.php
on line
151
Deprecated
: Non-static method JFilterInput::getInstance() should not be called statically, assuming $this from incompatible context in
/home2/sirdik/public_html/fbmi.sirdik.org/libraries/joomla/environment/request.php
on line
577
Deprecated
: Non-static method JRequest::getVar() should not be called statically, assuming $this from incompatible context in
/home2/sirdik/public_html/fbmi.sirdik.org/components/com_content/views/article/view.html.php
on line
60
Deprecated
: Non-static method JRequest::_cleanVar() should not be called statically, assuming $this from incompatible context in
/home2/sirdik/public_html/fbmi.sirdik.org/libraries/joomla/environment/request.php
on line
151
Deprecated
: Non-static method JFilterInput::getInstance() should not be called statically, assuming $this from incompatible context in
/home2/sirdik/public_html/fbmi.sirdik.org/libraries/joomla/environment/request.php
on line
577
Deprecated
: Non-static method JTable::getInstance() should not be called statically, assuming $this from incompatible context in
/home2/sirdik/public_html/fbmi.sirdik.org/components/com_content/models/article.php
on line
181
Strict Standards
: Non-static method JLoader::load() should not be called statically in
/home2/sirdik/public_html/fbmi.sirdik.org/libraries/loader.php
on line
161
Strict Standards
: Non-static method JLoader::register() should not be called statically in
/home2/sirdik/public_html/fbmi.sirdik.org/libraries/loader.php
on line
138
Strict Standards
: Non-static method JLoader::import() should not be called statically in
/home2/sirdik/public_html/fbmi.sirdik.org/libraries/loader.php
on line
186
Deprecated
: Non-static method JPath::find() should not be called statically, assuming $this from incompatible context in
/home2/sirdik/public_html/fbmi.sirdik.org/libraries/joomla/database/table.php
on line
91
Deprecated
: Non-static method JTable::addIncludePath() should not be called statically, assuming $this from incompatible context in
/home2/sirdik/public_html/fbmi.sirdik.org/libraries/joomla/database/table.php
on line
91
Deprecated
: Non-static method JFactory::getDBO() should not be called statically, assuming $this from incompatible context in
/home2/sirdik/public_html/fbmi.sirdik.org/libraries/joomla/database/table.php
on line
112
Deprecated
: Non-static method JFactory::getACL() should not be called statically, assuming $this from incompatible context in
/home2/sirdik/public_html/fbmi.sirdik.org/libraries/joomla/user/user.php
on line
260
Deprecated
: Non-static method JFactory::getACL() should not be called statically, assuming $this from incompatible context in
/home2/sirdik/public_html/fbmi.sirdik.org/libraries/joomla/user/user.php
on line
260
Deprecated
: Non-static method JFactory::getACL() should not be called statically, assuming $this from incompatible context in
/home2/sirdik/public_html/fbmi.sirdik.org/libraries/joomla/user/user.php
on line
260
Deprecated
: Non-static method JRoute::_() should not be called statically, assuming $this from incompatible context in
/home2/sirdik/public_html/fbmi.sirdik.org/components/com_content/views/article/view.html.php
on line
78
Deprecated
: Non-static method ContentHelperRoute::getArticleRoute() should not be called statically, assuming $this from incompatible context in
/home2/sirdik/public_html/fbmi.sirdik.org/components/com_content/views/article/view.html.php
on line
78
Deprecated
: Non-static method ContentHelperRoute::_findItem() should not be called statically, assuming $this from incompatible context in
/home2/sirdik/public_html/fbmi.sirdik.org/components/com_content/helpers/route.php
on line
49
Deprecated
: Non-static method JComponentHelper::getComponent() should not be called statically, assuming $this from incompatible context in
/home2/sirdik/public_html/fbmi.sirdik.org/components/com_content/helpers/route.php
on line
97
Deprecated
: Non-static method JComponentHelper::_load() should not be called statically, assuming $this from incompatible context in
/home2/sirdik/public_html/fbmi.sirdik.org/libraries/joomla/application/component/helper.php
on line
39
Deprecated
: Non-static method JApplication::getMenu() should not be called statically, assuming $this from incompatible context in
/home2/sirdik/public_html/fbmi.sirdik.org/components/com_content/helpers/route.php
on line
99
Strict Standards
: Non-static method JLoader::import() should not be called statically in
/home2/sirdik/public_html/fbmi.sirdik.org/libraries/loader.php
on line
186
Deprecated
: Non-static method JMenu::getInstance() should not be called statically, assuming $this from incompatible context in
/home2/sirdik/public_html/fbmi.sirdik.org/libraries/joomla/application/application.php
on line
705
Deprecated
: Non-static method JError::isError() should not be called statically, assuming $this from incompatible context in
/home2/sirdik/public_html/fbmi.sirdik.org/libraries/joomla/application/application.php
on line
706
Deprecated
: Non-static method JFactory::getApplication() should not be called statically, assuming $this from incompatible context in
/home2/sirdik/public_html/fbmi.sirdik.org/libraries/joomla/methods.php
on line
41
Deprecated
: Non-static method JFactory::getConfig() should not be called statically, assuming $this from incompatible context in
/home2/sirdik/public_html/fbmi.sirdik.org/includes/application.php
on line
372
Strict Standards
: Non-static method JLoader::import() should not be called statically in
/home2/sirdik/public_html/fbmi.sirdik.org/libraries/loader.php
on line
186
Deprecated
: Non-static method JRouter::getInstance() should not be called statically, assuming $this from incompatible context in
/home2/sirdik/public_html/fbmi.sirdik.org/libraries/joomla/application/application.php
on line
659
Deprecated
: Non-static method JError::isError() should not be called statically, assuming $this from incompatible context in
/home2/sirdik/public_html/fbmi.sirdik.org/libraries/joomla/application/application.php
on line
660
Deprecated
: Non-static method JSite::getMenu() should not be called statically, assuming $this from incompatible context in
/home2/sirdik/public_html/fbmi.sirdik.org/includes/router.php
on line
419
Deprecated
: Non-static method JApplication::getMenu() should not be called statically, assuming $this from incompatible context in
/home2/sirdik/public_html/fbmi.sirdik.org/includes/application.php
on line
345
Strict Standards
: Non-static method JLoader::import() should not be called statically in
/home2/sirdik/public_html/fbmi.sirdik.org/libraries/loader.php
on line
186
Deprecated
: Non-static method JMenu::getInstance() should not be called statically, assuming $this from incompatible context in
/home2/sirdik/public_html/fbmi.sirdik.org/libraries/joomla/application/application.php
on line
705
Deprecated
: Non-static method JError::isError() should not be called statically, assuming $this from incompatible context in
/home2/sirdik/public_html/fbmi.sirdik.org/libraries/joomla/application/application.php
on line
706
Deprecated
: Non-static method JFactory::getApplication() should not be called statically, assuming $this from incompatible context in
/home2/sirdik/public_html/fbmi.sirdik.org/includes/router.php
on line
401
Deprecated
: Non-static method JSite::getMenu() should not be called statically, assuming $this from incompatible context in
/home2/sirdik/public_html/fbmi.sirdik.org/includes/router.php
on line
295
Deprecated
: Non-static method JApplication::getMenu() should not be called statically, assuming $this from incompatible context in
/home2/sirdik/public_html/fbmi.sirdik.org/includes/application.php
on line
345
Strict Standards
: Non-static method JLoader::import() should not be called statically in
/home2/sirdik/public_html/fbmi.sirdik.org/libraries/loader.php
on line
186
Deprecated
: Non-static method JMenu::getInstance() should not be called statically, assuming $this from incompatible context in
/home2/sirdik/public_html/fbmi.sirdik.org/libraries/joomla/application/application.php
on line
705
Deprecated
: Non-static method JError::isError() should not be called statically, assuming $this from incompatible context in
/home2/sirdik/public_html/fbmi.sirdik.org/libraries/joomla/application/application.php
on line
706
Strict Standards
: Non-static method JSite::getMenu() should not be called statically in
/home2/sirdik/public_html/fbmi.sirdik.org/components/com_content/router.php
on line
19
Strict Standards
: Non-static method JApplication::getMenu() should not be called statically in
/home2/sirdik/public_html/fbmi.sirdik.org/includes/application.php
on line
345
Strict Standards
: Non-static method JLoader::import() should not be called statically in
/home2/sirdik/public_html/fbmi.sirdik.org/libraries/loader.php
on line
186
Strict Standards
: Non-static method JMenu::getInstance() should not be called statically in
/home2/sirdik/public_html/fbmi.sirdik.org/libraries/joomla/application/application.php
on line
705
Strict Standards
: Non-static method JError::isError() should not be called statically in
/home2/sirdik/public_html/fbmi.sirdik.org/libraries/joomla/application/application.php
on line
706
Deprecated
: Non-static method JFactory::getApplication() should not be called statically, assuming $this from incompatible context in
/home2/sirdik/public_html/fbmi.sirdik.org/includes/router.php
on line
90
Deprecated
: Non-static method JFactory::getConfig() should not be called statically, assuming $this from incompatible context in
/home2/sirdik/public_html/fbmi.sirdik.org/libraries/joomla/application/application.php
on line
382
Deprecated
: Non-static method JFactory::getConfig() should not be called statically, assuming $this from incompatible context in
/home2/sirdik/public_html/fbmi.sirdik.org/libraries/joomla/application/application.php
on line
382
Deprecated
: Non-static method JURI::base() should not be called statically, assuming $this from incompatible context in
/home2/sirdik/public_html/fbmi.sirdik.org/includes/router.php
on line
109
Deprecated
: Non-static method JPluginHelper::importPlugin() should not be called statically, assuming $this from incompatible context in
/home2/sirdik/public_html/fbmi.sirdik.org/components/com_content/views/article/view.html.php
on line
101
Deprecated
: Non-static method JPluginHelper::_load() should not be called statically, assuming $this from incompatible context in
/home2/sirdik/public_html/fbmi.sirdik.org/libraries/joomla/plugin/helper.php
on line
92
Deprecated
: Non-static method JPluginHelper::_import() should not be called statically, assuming $this from incompatible context in
/home2/sirdik/public_html/fbmi.sirdik.org/libraries/joomla/plugin/helper.php
on line
97
Strict Standards
: Non-static method JLoader::import() should not be called statically in
/home2/sirdik/public_html/fbmi.sirdik.org/libraries/loader.php
on line
186
Strict Standards
: Non-static method JLoader::import() should not be called statically in
/home2/sirdik/public_html/fbmi.sirdik.org/libraries/loader.php
on line
186
Deprecated
: Non-static method JDispatcher::getInstance() should not be called statically, assuming $this from incompatible context in
/home2/sirdik/public_html/fbmi.sirdik.org/libraries/joomla/plugin/helper.php
on line
140
Deprecated
: Non-static method JPluginHelper::getPlugin() should not be called statically, assuming $this from incompatible context in
/home2/sirdik/public_html/fbmi.sirdik.org/libraries/joomla/plugin/helper.php
on line
147
Deprecated
: Non-static method JPluginHelper::_load() should not be called statically, assuming $this from incompatible context in
/home2/sirdik/public_html/fbmi.sirdik.org/libraries/joomla/plugin/helper.php
on line
41
Deprecated
: Non-static method JRegistryFormat::getInstance() should not be called statically, assuming $this from incompatible context in
/home2/sirdik/public_html/fbmi.sirdik.org/libraries/joomla/registry/registry.php
on line
373
Deprecated
: Non-static method JFilterInput::clean() should not be called statically, assuming $this from incompatible context in
/home2/sirdik/public_html/fbmi.sirdik.org/libraries/joomla/registry/format.php
on line
45
Deprecated
: Non-static method JPluginHelper::getPlugin() should not be called statically, assuming $this from incompatible context in
/home2/sirdik/public_html/fbmi.sirdik.org/plugins/content/mavikthumbnails.php
on line
118
Deprecated
: Non-static method JPluginHelper::_load() should not be called statically, assuming $this from incompatible context in
/home2/sirdik/public_html/fbmi.sirdik.org/libraries/joomla/plugin/helper.php
on line
41
Deprecated
: Non-static method JRegistryFormat::getInstance() should not be called statically, assuming $this from incompatible context in
/home2/sirdik/public_html/fbmi.sirdik.org/libraries/joomla/registry/registry.php
on line
373
Deprecated
: Non-static method JFilterInput::clean() should not be called statically, assuming $this from incompatible context in
/home2/sirdik/public_html/fbmi.sirdik.org/libraries/joomla/registry/format.php
on line
45
Deprecated
: Non-static method JRequest::getVar() should not be called statically, assuming $this from incompatible context in
/home2/sirdik/public_html/fbmi.sirdik.org/plugins/content/mavikthumbnails.php
on line
131
Deprecated
: Non-static method JRequest::_cleanVar() should not be called statically, assuming $this from incompatible context in
/home2/sirdik/public_html/fbmi.sirdik.org/libraries/joomla/environment/request.php
on line
134
Deprecated
: Non-static method JFilterInput::getInstance() should not be called statically, assuming $this from incompatible context in
/home2/sirdik/public_html/fbmi.sirdik.org/libraries/joomla/environment/request.php
on line
577
Deprecated
: preg_replace(): The /e modifier is deprecated, use preg_replace_callback instead in
/home2/sirdik/public_html/fbmi.sirdik.org/libraries/joomla/filter/filterinput.php
on line
512
Deprecated
: preg_replace(): The /e modifier is deprecated, use preg_replace_callback instead in
/home2/sirdik/public_html/fbmi.sirdik.org/libraries/joomla/filter/filterinput.php
on line
514
Deprecated
: Non-static method JRequest::getVar() should not be called statically, assuming $this from incompatible context in
/home2/sirdik/public_html/fbmi.sirdik.org/plugins/content/mavikthumbnails.php
on line
132
Deprecated
: Non-static method JRequest::_cleanVar() should not be called statically, assuming $this from incompatible context in
/home2/sirdik/public_html/fbmi.sirdik.org/libraries/joomla/environment/request.php
on line
134
Deprecated
: Non-static method JFilterInput::getInstance() should not be called statically, assuming $this from incompatible context in
/home2/sirdik/public_html/fbmi.sirdik.org/libraries/joomla/environment/request.php
on line
577
Deprecated
: preg_replace(): The /e modifier is deprecated, use preg_replace_callback instead in
/home2/sirdik/public_html/fbmi.sirdik.org/libraries/joomla/filter/filterinput.php
on line
512
Deprecated
: preg_replace(): The /e modifier is deprecated, use preg_replace_callback instead in
/home2/sirdik/public_html/fbmi.sirdik.org/libraries/joomla/filter/filterinput.php
on line
514
Deprecated
: Non-static method JRequest::getVar() should not be called statically, assuming $this from incompatible context in
/home2/sirdik/public_html/fbmi.sirdik.org/plugins/content/mavikthumbnails.php
on line
133
Deprecated
: Non-static method JPluginHelper::_import() should not be called statically, assuming $this from incompatible context in
/home2/sirdik/public_html/fbmi.sirdik.org/libraries/joomla/plugin/helper.php
on line
97
Strict Standards
: Non-static method JLoader::import() should not be called statically in
/home2/sirdik/public_html/fbmi.sirdik.org/libraries/loader.php
on line
186
Strict Standards
: Non-static method JLoader::import() should not be called statically in
/home2/sirdik/public_html/fbmi.sirdik.org/libraries/loader.php
on line
186
Deprecated
: Non-static method JDispatcher::getInstance() should not be called statically, assuming $this from incompatible context in
/home2/sirdik/public_html/fbmi.sirdik.org/libraries/joomla/plugin/helper.php
on line
140
Deprecated
: Non-static method JPluginHelper::getPlugin() should not be called statically, assuming $this from incompatible context in
/home2/sirdik/public_html/fbmi.sirdik.org/libraries/joomla/plugin/helper.php
on line
147
Deprecated
: Non-static method JPluginHelper::_load() should not be called statically, assuming $this from incompatible context in
/home2/sirdik/public_html/fbmi.sirdik.org/libraries/joomla/plugin/helper.php
on line
41
Deprecated
: Non-static method JRegistryFormat::getInstance() should not be called statically, assuming $this from incompatible context in
/home2/sirdik/public_html/fbmi.sirdik.org/libraries/joomla/registry/registry.php
on line
373
Deprecated
: Non-static method JFilterInput::clean() should not be called statically, assuming $this from incompatible context in
/home2/sirdik/public_html/fbmi.sirdik.org/libraries/joomla/registry/format.php
on line
45
Deprecated
: Non-static method JPluginHelper::_import() should not be called statically, assuming $this from incompatible context in
/home2/sirdik/public_html/fbmi.sirdik.org/libraries/joomla/plugin/helper.php
on line
97
Strict Standards
: Non-static method JLoader::import() should not be called statically in
/home2/sirdik/public_html/fbmi.sirdik.org/libraries/loader.php
on line
186
Deprecated
: Non-static method JDispatcher::getInstance() should not be called statically, assuming $this from incompatible context in
/home2/sirdik/public_html/fbmi.sirdik.org/libraries/joomla/application/application.php
on line
484
Deprecated
: Non-static method JDispatcher::getInstance() should not be called statically, assuming $this from incompatible context in
/home2/sirdik/public_html/fbmi.sirdik.org/libraries/joomla/plugin/helper.php
on line
140
Strict Standards
: Non-static method JLoader::load() should not be called statically in
/home2/sirdik/public_html/fbmi.sirdik.org/libraries/loader.php
on line
161
Strict Standards
: Non-static method JLoader::register() should not be called statically in
/home2/sirdik/public_html/fbmi.sirdik.org/libraries/loader.php
on line
138
Deprecated
: Non-static method JPluginHelper::_import() should not be called statically, assuming $this from incompatible context in
/home2/sirdik/public_html/fbmi.sirdik.org/libraries/joomla/plugin/helper.php
on line
97
Strict Standards
: Non-static method JLoader::import() should not be called statically in
/home2/sirdik/public_html/fbmi.sirdik.org/libraries/loader.php
on line
186
Deprecated
: Non-static method JDispatcher::getInstance() should not be called statically, assuming $this from incompatible context in
/home2/sirdik/public_html/fbmi.sirdik.org/libraries/joomla/application/application.php
on line
484
Deprecated
: Non-static method JDispatcher::getInstance() should not be called statically, assuming $this from incompatible context in
/home2/sirdik/public_html/fbmi.sirdik.org/libraries/joomla/plugin/helper.php
on line
140
Strict Standards
: Non-static method JLoader::load() should not be called statically in
/home2/sirdik/public_html/fbmi.sirdik.org/libraries/loader.php
on line
161
Strict Standards
: Non-static method JLoader::register() should not be called statically in
/home2/sirdik/public_html/fbmi.sirdik.org/libraries/loader.php
on line
138
Deprecated
: Non-static method JPluginHelper::_import() should not be called statically, assuming $this from incompatible context in
/home2/sirdik/public_html/fbmi.sirdik.org/libraries/joomla/plugin/helper.php
on line
97
Strict Standards
: Non-static method JLoader::import() should not be called statically in
/home2/sirdik/public_html/fbmi.sirdik.org/libraries/loader.php
on line
186
Deprecated
: Non-static method JDispatcher::getInstance() should not be called statically, assuming $this from incompatible context in
/home2/sirdik/public_html/fbmi.sirdik.org/libraries/joomla/application/application.php
on line
484
Deprecated
: Non-static method JDispatcher::getInstance() should not be called statically, assuming $this from incompatible context in
/home2/sirdik/public_html/fbmi.sirdik.org/libraries/joomla/plugin/helper.php
on line
140
Strict Standards
: Non-static method JLoader::load() should not be called statically in
/home2/sirdik/public_html/fbmi.sirdik.org/libraries/loader.php
on line
161
Strict Standards
: Non-static method JLoader::register() should not be called statically in
/home2/sirdik/public_html/fbmi.sirdik.org/libraries/loader.php
on line
138
Deprecated
: Non-static method JPluginHelper::_import() should not be called statically, assuming $this from incompatible context in
/home2/sirdik/public_html/fbmi.sirdik.org/libraries/joomla/plugin/helper.php
on line
97
Strict Standards
: Non-static method JLoader::import() should not be called statically in
/home2/sirdik/public_html/fbmi.sirdik.org/libraries/loader.php
on line
186
Deprecated
: Non-static method JDispatcher::getInstance() should not be called statically, assuming $this from incompatible context in
/home2/sirdik/public_html/fbmi.sirdik.org/libraries/joomla/application/application.php
on line
484
Deprecated
: Non-static method JDispatcher::getInstance() should not be called statically, assuming $this from incompatible context in
/home2/sirdik/public_html/fbmi.sirdik.org/libraries/joomla/plugin/helper.php
on line
140
Strict Standards
: Non-static method JLoader::load() should not be called statically in
/home2/sirdik/public_html/fbmi.sirdik.org/libraries/loader.php
on line
161
Strict Standards
: Non-static method JLoader::register() should not be called statically in
/home2/sirdik/public_html/fbmi.sirdik.org/libraries/loader.php
on line
138
Deprecated
: Non-static method JPluginHelper::_import() should not be called statically, assuming $this from incompatible context in
/home2/sirdik/public_html/fbmi.sirdik.org/libraries/joomla/plugin/helper.php
on line
97
Strict Standards
: Non-static method JLoader::import() should not be called statically in
/home2/sirdik/public_html/fbmi.sirdik.org/libraries/loader.php
on line
186
Deprecated
: Non-static method JDispatcher::getInstance() should not be called statically, assuming $this from incompatible context in
/home2/sirdik/public_html/fbmi.sirdik.org/libraries/joomla/application/application.php
on line
484
Deprecated
: Non-static method JDispatcher::getInstance() should not be called statically, assuming $this from incompatible context in
/home2/sirdik/public_html/fbmi.sirdik.org/libraries/joomla/plugin/helper.php
on line
140
Strict Standards
: Non-static method JLoader::load() should not be called statically in
/home2/sirdik/public_html/fbmi.sirdik.org/libraries/loader.php
on line
161
Strict Standards
: Non-static method JLoader::register() should not be called statically in
/home2/sirdik/public_html/fbmi.sirdik.org/libraries/loader.php
on line
138
Deprecated
: Non-static method JPluginHelper::_import() should not be called statically, assuming $this from incompatible context in
/home2/sirdik/public_html/fbmi.sirdik.org/libraries/joomla/plugin/helper.php
on line
97
Strict Standards
: Non-static method JLoader::import() should not be called statically in
/home2/sirdik/public_html/fbmi.sirdik.org/libraries/loader.php
on line
186
Deprecated
: Non-static method JDispatcher::getInstance() should not be called statically, assuming $this from incompatible context in
/home2/sirdik/public_html/fbmi.sirdik.org/libraries/joomla/application/application.php
on line
484
Deprecated
: Non-static method JDispatcher::getInstance() should not be called statically, assuming $this from incompatible context in
/home2/sirdik/public_html/fbmi.sirdik.org/libraries/joomla/plugin/helper.php
on line
140
Strict Standards
: Non-static method JLoader::load() should not be called statically in
/home2/sirdik/public_html/fbmi.sirdik.org/libraries/loader.php
on line
161
Strict Standards
: Non-static method JLoader::register() should not be called statically in
/home2/sirdik/public_html/fbmi.sirdik.org/libraries/loader.php
on line
138
Deprecated
: Non-static method JFactory::getApplication() should not be called statically, assuming $this from incompatible context in
/home2/sirdik/public_html/fbmi.sirdik.org/plugins/content/jw_allvideos.php
on line
30
Deprecated
: Non-static method JFactory::getDocument() should not be called statically, assuming $this from incompatible context in
/home2/sirdik/public_html/fbmi.sirdik.org/plugins/content/jw_allvideos.php
on line
31
Deprecated
: Non-static method JURI::root() should not be called statically, assuming $this from incompatible context in
/home2/sirdik/public_html/fbmi.sirdik.org/plugins/content/jw_allvideos.php
on line
35
Deprecated
: Non-static method JPluginHelper::isEnabled() should not be called statically, assuming $this from incompatible context in
/home2/sirdik/public_html/fbmi.sirdik.org/plugins/content/jw_allvideos.php
on line
38
Deprecated
: Non-static method JPluginHelper::getPlugin() should not be called statically, assuming $this from incompatible context in
/home2/sirdik/public_html/fbmi.sirdik.org/libraries/joomla/plugin/helper.php
on line
75
Deprecated
: Non-static method JPluginHelper::_load() should not be called statically, assuming $this from incompatible context in
/home2/sirdik/public_html/fbmi.sirdik.org/libraries/joomla/plugin/helper.php
on line
41
Deprecated
: Non-static method JFactory::getLanguage() should not be called statically, assuming $this from incompatible context in
/home2/sirdik/public_html/fbmi.sirdik.org/libraries/joomla/plugin/plugin.php
on line
113
Deprecated
: Non-static method JRegistryFormat::getInstance() should not be called statically, assuming $this from incompatible context in
/home2/sirdik/public_html/fbmi.sirdik.org/libraries/joomla/registry/registry.php
on line
373
Deprecated
: Non-static method JFilterInput::clean() should not be called statically, assuming $this from incompatible context in
/home2/sirdik/public_html/fbmi.sirdik.org/libraries/joomla/registry/format.php
on line
45
Deprecated
: Non-static method JPluginHelper::getPlugin() should not be called statically, assuming $this from incompatible context in
/home2/sirdik/public_html/fbmi.sirdik.org/plugins/content/jw_allvideos.php
on line
54
Deprecated
: Non-static method JPluginHelper::_load() should not be called statically, assuming $this from incompatible context in
/home2/sirdik/public_html/fbmi.sirdik.org/libraries/joomla/plugin/helper.php
on line
41
Deprecated
: Non-static method JRegistryFormat::getInstance() should not be called statically, assuming $this from incompatible context in
/home2/sirdik/public_html/fbmi.sirdik.org/libraries/joomla/registry/registry.php
on line
373
Deprecated
: Non-static method JFilterInput::clean() should not be called statically, assuming $this from incompatible context in
/home2/sirdik/public_html/fbmi.sirdik.org/libraries/joomla/registry/format.php
on line
45
2.4.2 Reprodukční buněčná smrt
Jelikož esej tvorby kolonií měří ztrátu reprodukční kapacity, je jednou formou buněčné smrti, která se zde určitě zaznamená, tzv. "reprodukční buněčná smrt". Poškození DNA není v některých případech úspěšně opraveno, avšak je opraveno chybně, buňky se stanou neschopnými reprodukce, protože v některém okamžiku selhává mitóza. Představme si například dicentrický chromozom. Když se buňka během mitózy snaží oddělit chromatidy, je vysoká pravděpodobnost, že se aparát vřeténka zamotá, a tím není schopen poskytovat dva zřetelně oddělené soubory chromozomů pro dvě mateřské buňky. Pod mikroskopem lze někdy pozorovat dvě buňky spojené tenkým můstkem cytoplazmy obsahující DNA, což nejpravděpodobněji znamená, že nastalo dělení buňky, avšak došlo k chromozomálnímu poškození, které nelze rozmotat. To se nazývá "mitotickou katastrofou".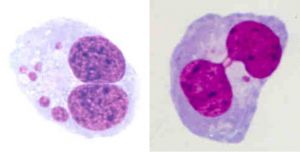 Mikroskopický obrazy "mitotických katastrof". Buněčné jádro se rozdělilo, avšak buňka pak osahuje vedle hlavních jader několik mikrojader z acentrického chromozomálního fragmentu (nalevo), anebo dceřiná jádra jsou spojena můstkem obsahujícím chromatin, pravděpodobně následkem vzájemného propletení chromatidů (napravo).
(modifikováno podle www-pub.iaea.org/MTCD/publications/PDF/eprmedt/Day_2/Day_2-8.pps)
Když uvážíme vztah mezi přežívající frakcí a počtem chromozomových aberací, lze rozumně předpokládat, že přežijí pouze buňky bez jakékoli aberace. Podle Poissonovy statistiky, je-li střední počet letálních zásahů m, potom pravděpodobnost n zásahů je
P(n) = m * exp (-m) / n!
Pravděpodobnost buňky mající 0 letálních zásahů, to jest pravděpodobnost přežití, je tedy
P(0) = m * exp (-m)
Je-li střední počet zásahů na buňku 1, potom
P(0) = 1 * exp (-1) = 1/e nebo 37%
Proto dávka snižující přežívání na 37 % nebo 1/e (z původních 100 %) bude vyvolávat právě jeden letální zásah. Je zajímavé, že pro mnoho typů buněk dávka redukující přežívání na 37 % je přesně ta dávka, která vyvolává vznik jednoho dicentrického chromozomu na buňku. Proto lze rozumně předpokládat, že tento typ chromozomové aberace je hlavní příčinou reprodukční buněčné smrti.